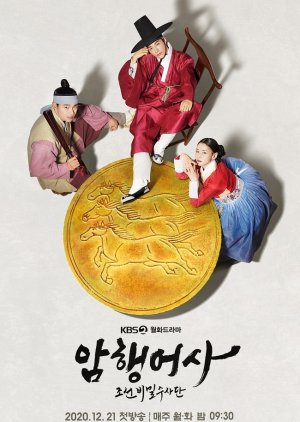 Secret Royal Inspector (2020)
Watch Online Secret Royal Inspector Latest Episodes in HD only on DramaCool.KDrama Secret Royal Inspector English Sub has been released now.Set toward the end of the Joseon era, Sung Yi Gyum places first in the state examination, landing him a position at Hongmungwan in the Administration and Research Department. Despite his recent success, he has no life goals, nor the ambition to realize them, if he did!
When caught gambling, Sung Yi Gyum, is punished and assigned to work as a Secret Royal Inspector. He is tasked with uncovering illegal acts and rooting out corruption within the ranks of public officers. He solves cases with the help of fellow inspector Hong Da In, a female colleague and his servant Park Chun Sam, who is talkative, affectionate, and often teary-eyed.
Sung Yi Gyum's family consists of a nobleman father, his step-mother, a slave, and a younger step-brother, Sung Yi Bum. His father won't accept Yi Bum as his legitimate son due to his mother's low social status. As a result, Yi Bum is barred from seizing certain opportunities, creating a world of resentment towards his older step-brother, Yi Gyum.